For some reason I expected the show Repre 2 - by a group of nine artists that share a common vision to capture and depict reality - to be purely about representing the human form, but refreshingly it wasn't. There were landscapes and a giant moon, as well as huge faces made from material.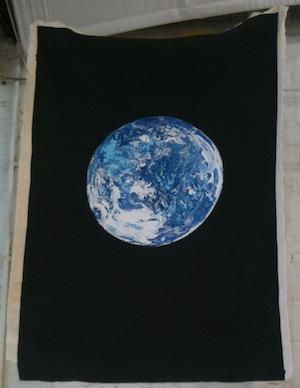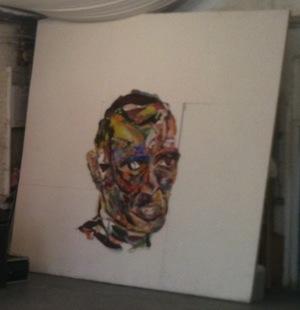 Louise Morgan Patrick Simkins
But that made me think that contemporary art has hit such a weird place when landscapes and the human figure and the moon all have to be classed into what is essentially an unfashionable art category. I'm assuming that the idea of the group Repre is to defend and extoll the virutes of depicting reality - and of course the idea is to be as experimental as possible.
Julie Bennett
It's that art school thing I guess that forces artists to step away from painting what they want and spend their time justifying what they are doing - and creating works that are designed for the Tate or White Cube and no where else. It's as if artists have to produce work that could never fit on a wall in a home - that would seem tanatamount to a crime in today's art world.
In which case Nathaniel Fowles must be an art criminal for his fine and straightforward paintings that are in this show. Take this painting of a boy - not only is the boy classily painted, but the bed or blanket the boy is on has a satisfying texture and plastic quality to it. I know Nathaniel from when I was in the same studio as him a few years ago and his dedication to reality is paying off as these paintings are great.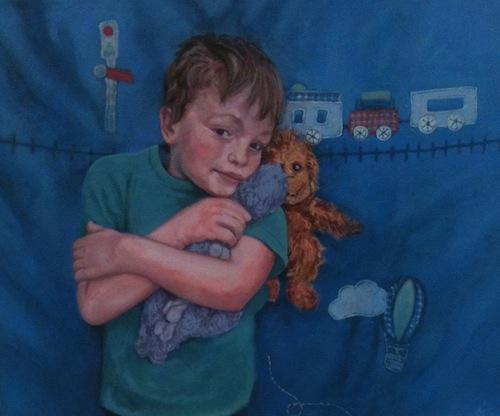 Nathaniel Fowles
My other favourite pics of the show are by Andrew Newton - clean images of people with out of control splodges of paint messing them up. I always like this kind of thing that maybe reminds me of Julian Schnabel. It seems to me the most effective contemporary and experimental part of the show - there's a certain sense of today in the way that even in a quiet gallery you still can't see the faces properly as if phone calls and emails are still messing up your peace.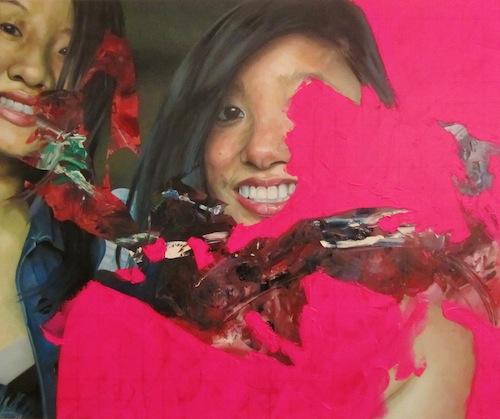 Andrew Newton
Other experimental pieces that are intriguing are Noel Hefle's small landscape paintings which are displayed haphazardly on the back of what appears to be a packing crate. It looks a bit chaotic but there's something interesting about counteracting the prettiness of the paintings with the flat reality of the crate.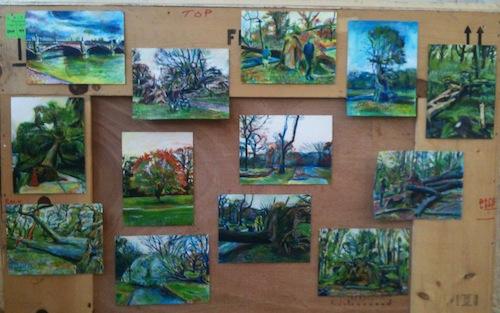 Noel Hefle
Then there's Rebecca Molly's vibrant paintings of life models on perspex - I guess the material used here is part of the experimental vibe, what would be cool is if the perspex played a stronger part in the picture.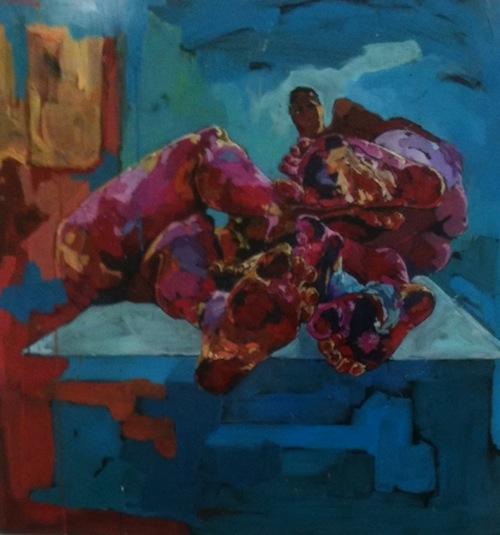 Rebecca Molly
It's an intriguing show - and Repre are in residence with DegreeArt over the summer so there will be a chance to see more. The question I wonder is whether representational art needs to be experimental at all. Do all artists have to live in the shadow of what they're told at art school?
Review by Robert Dunt, artist and Founder of ArtTop10.com - www.robertdunt.com