You can't deny that this is a great spectacle and the huge film screen at the end of Tate Modern's Turbine Hall is really cool and it seriously makes the place look stunning. But the question is whether the film is any good?
The film is essentially all chopped up clips of mountains, snails and waterfalls, eyeballs, sorts of modernist coloured shapes etc. Part of the film seems to shows a kind of mock up cardboard cut out of the Turbine Hall itself which appears to have stones and rocks behind it, almost as if the film is replacing the end of the turbine hall, and the huge screen achieves that in a really clever way.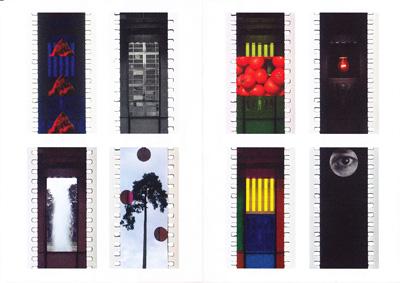 Film still from brochure
The best bit for me was probably when I first walked up to where the other people were watching - and ok so this has actually got people watching a film in an art gallery, it's not the usual film on its own with a couple of people hanging around. When I first stood in front of the screen there was a mountain rising through the mist in front of a mocked up turbine hall. This bit had atmosphere and drama, a sense of scale and majesty to it. It was really good, then the film moved on and there were modernist shapes and bits of water falling and basically ongoing random jumps which are fun, fun random jumps but there didn't seem to be any real clarity or sense to the juxtapositions. It was a bit like there was a bit of an idea here and a bit of an idea there, but no thread running through it all, nothing more than flights of fancy, no imagination pulling this thing together. The film didn't seem to have any sense of poetry moving it from one stage to the next.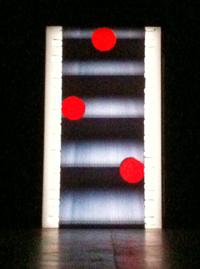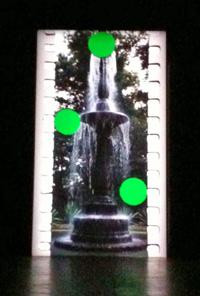 Film stills
If I compare it to the videos of the band the Jesus and Mary Chain I would say that some of their cut up montages of images have a greater clarity, they seem to be clearly summing up some sense of rock'n'roll, drugs, motorbikes and coolness. But it's not easy to put my finger on what this film is about. Yes it's a great spectacle with the whole experience of the big screen and it's fun to watch and be there - but the film seems not a lot more than some pretty lights to make the most of the big screen. There's little visual games and the occasional nod to modernist colours and shapes, but not a great thread of communication.
If you read the booklet - which I have purposefully not done until now so that I can get a fresh feel for the experience of the work - you basically read a lot about film itself and Tacita Dean's concern about the threat to analogue film and how all of this was done with no post production. Frankly I just don't care and this whole desperation to cling to the old ways of making films seems, well, less important to me than what the film is about.
There's about one paragraph that's actually about the film which says it's a visual poem, I don't think it is as poems tend to communicate succinctly and this doesn't.
Maybe this is meant to be about rescuing analogue film but there is very little chance of that being communicated to you through the film itself which, even if it's made in this low tech way, is presented as pure hi-tech spectacle in a way that no amateur filmmaker could ever dream of presenting their film.
A great spectacle and fun for the Turbine Hall, but not a piece of visual poetry. If you want to see a film that has more poetry to it then check out Girl Chewing Gum at Tate Britain.