Repre are delighted to announce their second exhibition, Repre 2. The show will take place on the weekend of the 13 & 14 April at Silwex Studios, Quaker Street, London E1 6SN with the private view on Friday 12 April 6-9pm. Please email info@repreart.co.uk to be added to the guest list as capacity is limited to 150 only.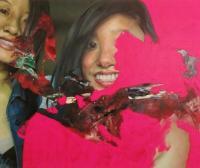 Repre are a group of nine artists that share a common vision to capture and depict reality. From the body to the landscape, each artist is concerned with not only depicting the real, but exploring the boundaries of realism within their practice.

Repre 2 will be an experimental exhibition exploring each artist's relationship with realism. As a group the artists are unified by the starting point of reality, but ultimately their work is a personal and unique approach to depicting the world around us. There are a variety of ideas that the artists are driven by such as surface, mass media, atmosphere or the deconstruction of reality, these themes will provide the basis for the exhibition and will give an insight into the role of realism within each artist's work. Alongside showing individual pieces, the group will work on a live painting over the course of the weekend, the collaborative piece will allow the artist's to question their own practice and come together as a group to explore the representational and experimental artistic process. The exhibition will end with an artist's talk on Sunday 14 April, to open up a discussion around the themes of depicting the real, working collaboratively and the outcomes of the exhibition.

The group will be in residence with DegreeArt over the summer of 2013 and Repre 2 will be a precursor to their residency as a way to start the debate and ideas that will inspire the group to work together on a large scale project.

The group's name, Repre, is itself a reflection of the distance it sets itself from the constraints of traditional figurative art. Repre is a segment of the original word 'Representational'. The artists aren't solely bound to painting the real but instead challenge their approach and ideas to make their work relevant to the contemporary art world. By using a variety of themes, influences and ideas the group's work provides an exciting approach to figurative art.

Silwex Studios is located in the artistic community of Shoreditch, and is just a 2 minute walk away from Shoreditch High Street station. It is a great contrast to Repre's debut show at the Crypt Gallery, St Martin-in-the-Fields. Just as their work seeks to do, Repre artists will use the unusual backdrop to provide an exciting and refreshing take on the traditional values of an exhibition space.