It's easy to forget that Picasso did have a derivative phase - he didn't just appear producing purely original and revolutionary work. Take the first room of this show with Toulouse-Lautrec type pictures with no real focus. They have much more traditional values in them and are essentially copies of that dance hall kind of Toulouse-Lautrec painting. Sure Picasso shows his ease in producing these paintings - he churned them out, 3 a day at times, for his first show in Paris with the dealer Ambroise Vollard. But they are not revolutionary. Instead they exhibit a flashy splashy paint style that the critics liked.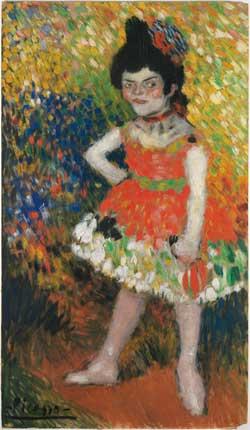 Pablo Picasso (1881-1973)
Dwarf-Dancer, 1901
Oil on board, 105 x 60 cm
Museu Picasso, Barcelona (gasull Fotografia)
For instance a critic commenting on the self portrait Yo Picasso (below), which is in the second room, said it was, "done with great courage and great confidence." Still to me it seems dashed off and shallow - what's fascinating is the other self portrait beside it that is smaller but has none of the flashy quick paint splashing of the other one. (You'll have to go to the show to see this one.) Instead it's more introspective, strangely worked at and imbalanced which gives it a much more realistic feel and far greater depth. It's curious that art today constantly demands new ideas and yet even someone like Picasso started with more derivative works. If you make derivative works today you're derided.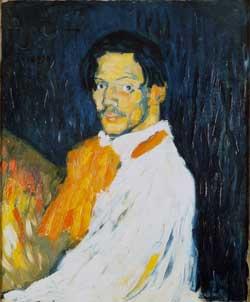 Pablo Picasso (1881-1973)
Self-Portrait (Yo - Picasso), 1901
Oil on canvas, 73.5 x 60.5 cm
Private collection
In the second room the paintings, like this small self portrait, start to become less flashy and more introspective - possibly caused by the suicide of his friend Casagemas. There is a mesmerising portrait of Casagemas in his coffin that Picasso kept private until the 60s. This was a painting just for himself and not just a potboiler whipped up to sell, which makes it all the more fascinating. This is what Picasso wanted to look at.
It's enthralling to see this progression from splashy paintings just to sell to the weird melancholy pictures of people in cafes with harlequins. You forget that the harlequin is a geniunely weird person to be sitting in a cafe - certainly dressed in their full harlequin outift. It'a genius piece of juxtaposition that is really brought out in this exhibition. What is also pertinent is that as the paintings become more interesting they also become of less interest to the critics and the buying public and Picasso has to leave Paris penniless for a while.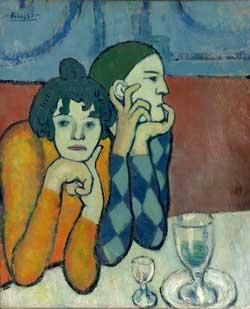 Pablo Picasso (1881-1973)
Harlequin and Companion, 1901
Oil on canvas, 73 x 60 cm
© The State Pushkin Museum, Moscow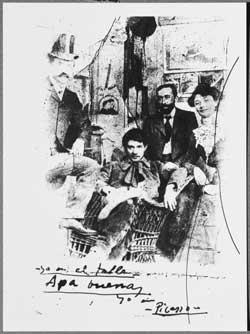 Photograph of Picasso seated in his studio, 130ter boulevard de Clichy, Paris, with his agent Pere Manach to the left and the painter Torres Fuster and his wife to the right.
Spring or summer 1901
© Photo RMN-GP
Becoming Picasso: Paris 1901 runs at The Courtauld Gallery until 26 may 2013
Review by Robert Dunt - Founder of ArtTop10.com