Shock! Shock! There were paintings, this year, lots of them! Abstract paintings as well. OK so Frieze is normally full of more radical art and that does make it more fun than a lot of art fairs, but this year the weirdness knob had been turned to low and there were lots of pics.
My favourite was a small Jonathan Lasker painting, abstract and beautiful it seemed to hum off the wall, and despite the insane intellectuality in the pic it was good to see a little dribble of yellow paint that had oozed out of a thicker section - and thankfully he hadn't cleaned it up but left it there. A perfect mix of intellectual control and the chaos of painting.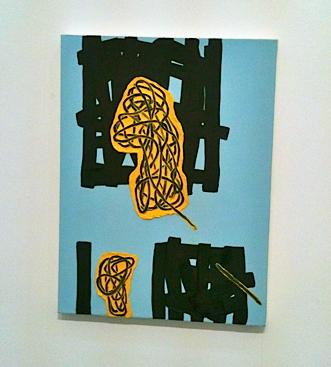 Jonathan Lasker pic.
That was a at Timothy Tailor gallery that also had a really nice small Bridget Riley, this was also pleasing in that it wasn't too perfect. She gets people to make her pics so it was nice to see this one that wasn't too über perfect and there was one line that wobbled a bit.
Other quality moments included not just a big Gerhard Richter digital print, but more pleasingly small photos of his that he's painted over. The print is probably the most recent work and apparently a buyer had placed a possible sale for something over $1m. But the real nice works were these older photos, real quality pics, small and tentative and truly experimental. The paint on top throwing up proper questions about the place and conflict or marriage of paintings and photos. These were at the Marion Goodman gallery.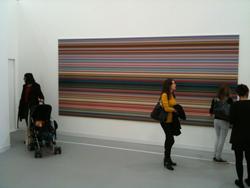 Large Richter Print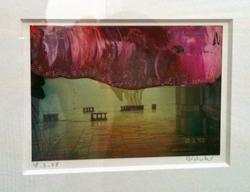 Small Richter photos with paint
In a similar fashion, there was a good classic Sigma Polke at Michael Werner, but the real special works were a few Polke on paper. Really nice experimental works again, a pure pleasure to see in real life and a little more accessible that the big canvases. It was great to see the use of some lurid greens and feel the sensation of the creativity happening in front of you - nevertheless Polke had managed to stay in control and not overwork the pictures. Brilliant.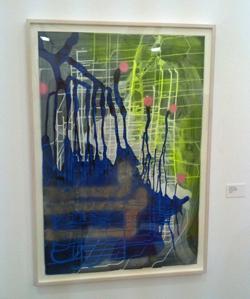 Polke