It's the Affordable Art Fair which is always fun. If you fancy buying something or just heading out to the fair for a bit of entertaiment here's our pick of what to look for. In no particlualr order: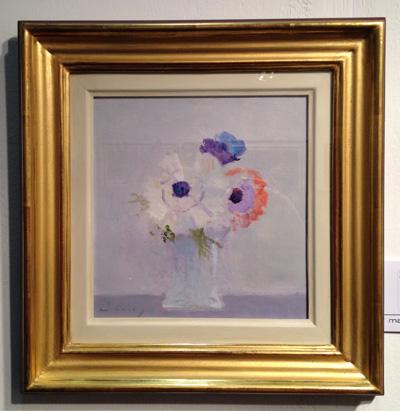 Gorgeous paintings by Fred Cuming RA can be found at Manya Igel Fine Arts - this is superb and classic British art with seriously wonderful and imaginative colours. If the art world was different today he'd be on the top of a pinnacle of genius.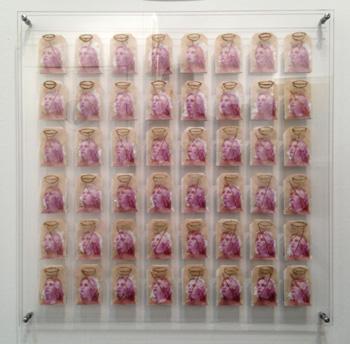 These extraordinary works are made on tea bags - yes tea bags! They catch your eye and although there's the obvious use of different materials the works are still attractive which is cool. They are made by a German artist called Georg Coblenz and you can see them at the Allouard Gallery stand.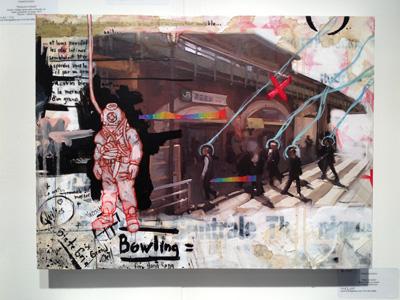 It's a bit like Robert Rauschenberg meets an alien attack! What more could you want than deep sea divers and blue beams of light hitting people's heads. I like the postmodern mix up and the painting still works on really good formal qualities and has a great composition. It's by Francis Kock and is at the Arteria Gallery stand.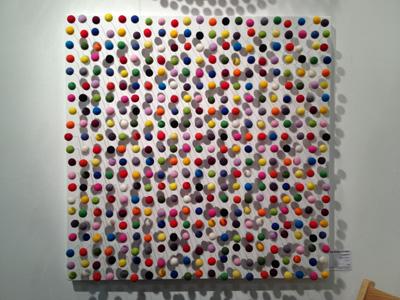 This one is great - it actually seems to be smallish balls of cotton that are stuck on the end of sticks and are floating a few centimetres off the canvas. Fun and colourful and made by Ruth Waller and Lee Hewett, find it at Byard Art.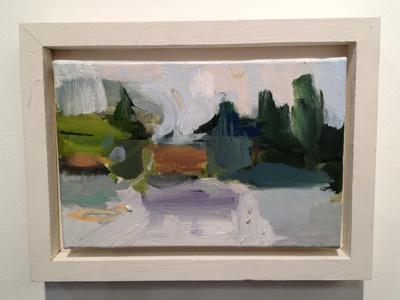 I liked this small landscape by Ann Gardner at the Offenart stand. It's got a nice half abstract half real quality and you can see and appreciate all the brush marks.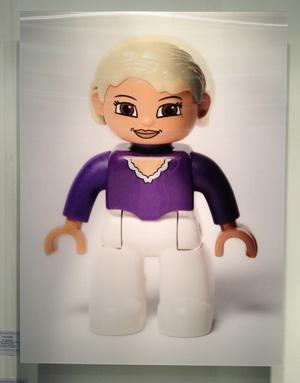 Buy this for your home and it's sure to make people smile and to blow their minds - partly because what you cannot see from the photo is that the figure moves around and changes colour as you move around. It's by Anna Tass at the Wanrooij Gallery stand.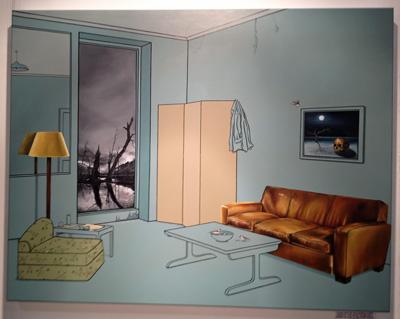 I like this with it's mix of photorealism and linear qualities - it's also got a nice 3D feel to it, especially the light in the corner. It's by Vanessa Flood and is at the Mark Jason Gallery stand.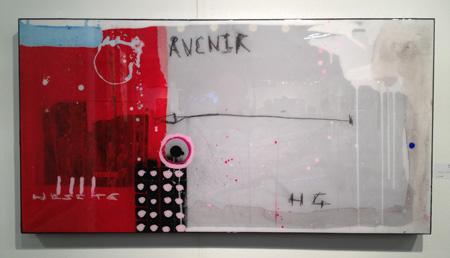 This has a nice feel of loose drawing and painting and is also on shiny kind of glass which adds to the whole effect. It's by Edouard Buzon and is at Envie D'Art.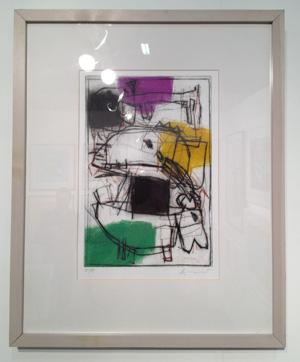 This is a nice rough and scruffy print that despite that chaos hangs together really nicely. It's feels as if the drawing is still happening in front of your eyes. It's by Gianfranco Asueri and is at the Zerba One Gallery stand.
Enjoy!
Review by Robert Dunt, practising artist and Founder & CEO of ArtTop10.com www.robertdunt.com
The Affordable Art Fair runs from March 15 - 18 and is in Batersea Park. www.affordableartfair.com/uk/home/