As soon as you enter you're surrounded, and the paintings and the space are both so vast that it feels like the pictures are above you as well as all around you. You see and feel these massive and essentially black and white images that seem to ripple with pattern and emblazoned across each image in red - again and again and again - are words like suicide, death, gun, girl, hell, shot, banker and killer - it's literally like you're being hit by these words. It's like a distillation of years of newspaper headlines hammering you in a few hundred yards and it really does hit you.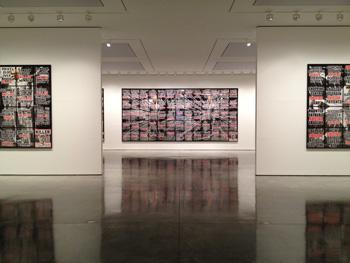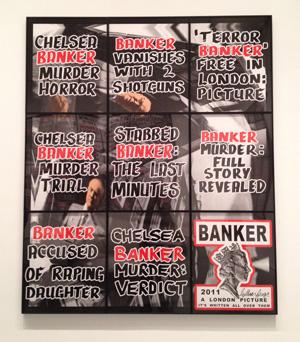 But as Gilbert and George said, while this may be a lament it is meant to have a positive force and they themselves are optimistic. They would like people to take something away from the exhibition and change, and even though this maybe a lament, it's a lament about a complex world and the heavy cost of freedom, which they seriously value.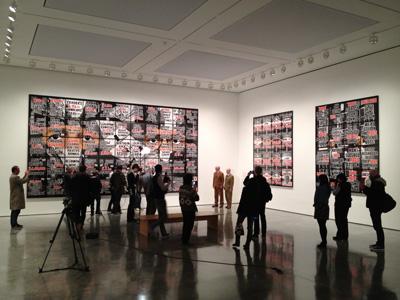 Looking at the pictures themselves is a strange experience of delving through layers. Take the work Killer. First you are overwhelmed with the size, and then the weight the picture has which seems to come from the repetitive back and white palette that is only occasionally broken with pink and red.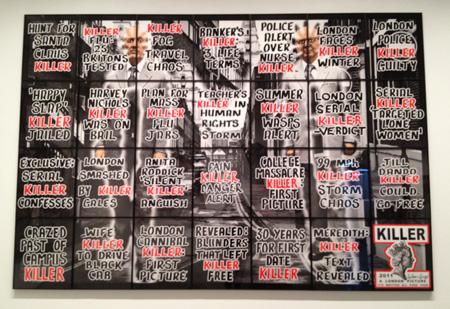 Killer
Then you begin reading, killer fog travel chaos, banker's killer 3 life terms, police alert over nurse killer. Then from behind the words you begin to make out plain or gritty images of London streets and then Gilbert and George with light around them almost floating - they even have holes in them; the holes are also surrounded with light and you can see right through them to the street behind.
Gilbert and George said that there was meant to be an element of them as ghostly, ghost like figures, possibly haunting London. Certainly in Killer that's the way it can seem, but in other pictures they appear in subtly different forms. In the picture Money they are just huge strips of eyes looming, or in Death they are vibrating multiple heads appearing, or in Gun they stand with their fists up.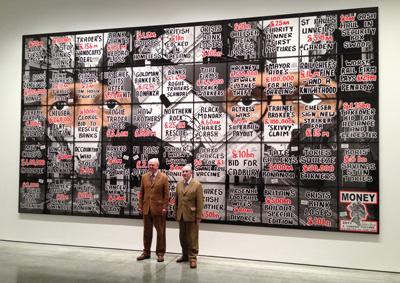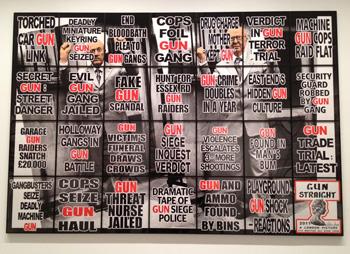 Gilbert & George with Money and Gun
The more I looked the more the words from the paper faded and the more the images of Gilbert and George came to the forefront and I kept thinking, 'what are they saying?' Are they angry or impassive or watchers? They said that the way the exhibition had come about was from them stealing 3712 newspaper headline posters, like you see outside newsagents.
They then categorized and sorted these by subject - the beauty of embarking on the project this way meant they were able to approach all sorts of subjects that would have been more complicated to approach directly. The 3712 newspaper posters have now become 292 pictures, some of which are here at White Cube in Bermondsey, and others which will be shown around London and the world.
But how does it feel looking at the exhibition? It feels like this is their huge grand statement about London, about something they seem to both love, but at the same time are horrified by. It's like they are invigorated by the life around them and the excitement, but they are also lamenting the flip side of this vivacity.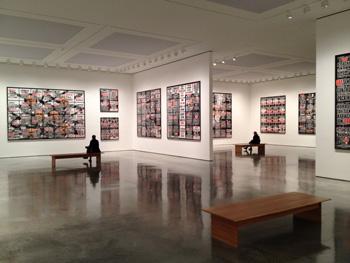 Either way the show won me over - I've seen lots of Gilbert and George works but they've never really got to me, but these ones are genuinely moving and overwhelming. It's also hard not to be impressed by their clarity of vision and thought - when they were talking to the press there was even a moment when they spoke each word alternately like a tag team.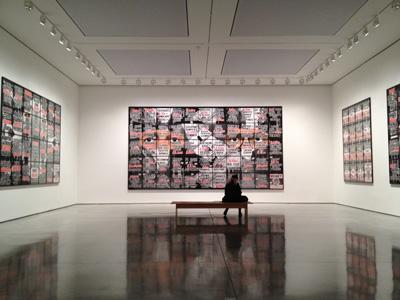 This also seemed to be much the way they organised the stealing of their newspaper headlines. One of them would go into the shop and distract the shopkeeper by buying chewing gum while the other would work to get the poster out of the metal frame it's put in. But one time a policeman ran up to George as he was wrestling the poster from the frame - thinking on his feet George implied that he was a teacher taking the poster to curb crime within his school. The policeman then had nothing for him but praise.
An extraordinary and powerful exhibition and not to be missed.
Review by Robert Dunt, practising artist and Founder & CEO of ArtTop10.com www.robertdunt.com
Gilbert & George, London Pictures runs at all White Cube London galleries concurrently from 9 March. It runs at the Bermondsey and Mason's Yard galleries until 12 May and at the Hoxton Square gallery until 14 April. The show is also at the new White Cube Hong Kong gallery until 5 May.