Legend has it that when Ben Nicholson first visited Mondrian's studio he didn't come away with the memory of any particular painting, instead he left with an atmosphere - that the studio was the kind of place where Saints would live. This superb show manages to capture a great deal of that atmosphere as the intimate surroundings of the Courtauld Gallery somehow make these works look better than ever, and pushes their sincerity and spirituality to the fore.
The exhibition is minimal but absolutely stunning. There's only two rooms but with the works that are on display it's more than enough to keep you engrossed for days, and there really is something about the space that shows these paintings to their full. I wouldn't say that a Mondrian or a Nicholson is lost in a larger Tate Modern like venue - but here you really appreciate them.
Every so often I would turn around and just be blown away by a work like Nicholson's 1936 (white relief). In the crisp, white light of the Courtald gallery space the shadows on the work become all the more precise and subtle and there's a real feeling of freshness - as if the work only left the studio yesterday and you can sense the texture of the freshly applied paint and sanded wood. It's like you can feel the earthiness of these works, and they are still covered with the dust from the studio they were made in.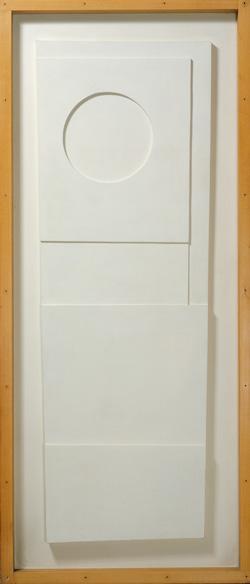 Ben Nicholson (1894-1982)
1936 (white relief)
Oil on carved board, 79.5 x 91 cm
Private collection
© Angela Verren Taunt. All rights reserved, DACS 2012
The exhibition aims to make a narrative of the close friendship that Nicholson and Mondrian had, and begins with work by both artists before they met and then continues to show how they influenced one another.
This works extremely well as it really brings out the great qualities of both artists. For instance take two of the works on show, Mondrian's Composition B/(No. II) with Red, 1935 and Nicholson's 1937 (painting), 1937. It's brilliant to see how Nicholson keeps the bright saturated red slap bang in the centre of his painting like an anchor while Mondrian pushes the red right up into the corner of his. It's fascinating to see how each artist was working to balance their pictures but in different ways.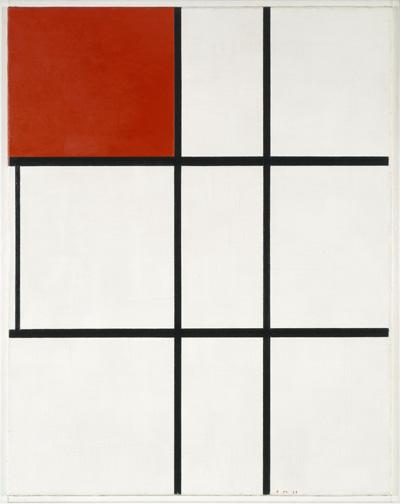 Piet Mondrian (1872-1944)
Composition B/(No. II), with Red
1935
Oil on canvas, 80 x 63.2 cm
Tate, London
© 2012 Mondrian/ Holtzman Trust c/o HCR International Washington DC
Ben Nicholson (1894-1982)
1937 (painting)
Oil on canvas, 79.5 x 91 cm
The Courtauld Gallery, London,
Samuel Courtauld Trust
(Alistair Hunter Bequest, 1984)
© Angela Verren Taunt. All rights reserved, DACS 2012
In a similar fashion you can see how Mondrian uses his thick black lines to set up rhythm in his works, where in Nicholson's paintings the rhythm is set up in the juxtaposition of the coloured shapes and their interaction. Even better is seeing the comparison of Mondrian's black rhythmic lines to the shadow lines that Nicholson creates in his carved reliefs. Take Nicholson's 1938 (white relief), 1938. This is an amazing work and in the intimacy of this exhibition you can really see the fine subtleness that Nicholson has employed so that some of the shadows are only millimetres thicker than others.
Ben Nicholson (1894-1982)
1938 (white relief)
1938
Oil and pencil on carved board, 106 x 110 cm
Kröller-Müller Museum, Otterlo
© Angela Verren Taunt. All rights reserved, DACS 2012
NIcholson did not stick these reliefs together, but carefully carved them - even though they are quite shallow - so that he could achieve this subtly in the shadows. What is extraordinary to see is the textures there are in both the Nicholson and Mondrian works. Nicholson's 1938 (white relief) has a sort of moon-like cratered surface - and when you look closely at the Mondrian's they are criss-crossed with cracks, and the black lines are think and layered, so that there is an almost Nicholson like carved relief element to the works. These textures make the works so rich and it's stunning to see that these precise minimal works also have an earthy sense of craft that makes them real and tangible. Incidentially the cracks in the Mondrian's are apparently there as he painted numerous layers of white onto the pictures in order to get them as flat as possible, and sometimes he painted the next layer on before the one underneath was dry.
The other extraordinary thing I found about Nicholson's 1938 (white relief) is that the longer you look at it, the more it seems to be packed with intensely subtle colours - the whites almost have tiny bits of sienna and grey in them and all the whites actually seem different.
It does seem that Nicholson's ability as a colourist has been overlooked (the Tate Britain Picasso show also reveals his great colour ability). Just look at a couple of the early Nicholson's in the show like Nicholson's 1933 (six circles), 1933 which has gorgeous earthy browns and siennas, and 1934 (painting), 1934 which has stunning pink and black and violet, plus in this painting it's magical the way Nicholson has left the rough ground of the work exposed on the right hand side, complete with lines scratched into it.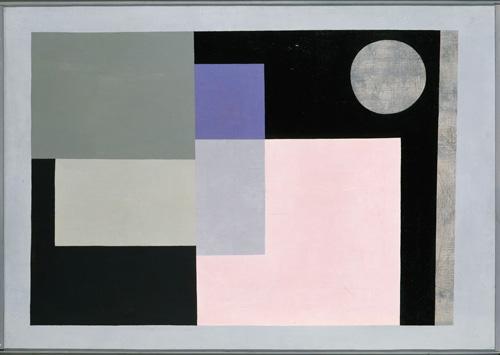 Ben Nicholson (1894-1982)
1934 (painting)
1934
Oil on canvas, 72 x 101 cm
Museum Kunstpalast, Düsseldorf
© Angela Verren Taunt. All rights reserved, DACS 2012
There's a great deal of large superb exhibitions on in London at the moment, Freud and Picasso for example, but this stunning exhibition competes easily with them. The more you look at this exhibiton the more you get out of the works - it's like seriously satisfying food for the soul.
Review by Robert Dunt, practising artist and Founder & CEO ArtTop10.com - www.robertdunt.com
Mondrian Nicholson: In Parallel runs at The Courtauld Gallery until 20 May 2012.