For the price this is a cracking little piece of stylish kit. It looks cool in a space age kind of way, is easy and light to wear, and has a superb amount of functionality for the pricetag. If you want a wearable that's exercised focused with some extra frills then this is for you.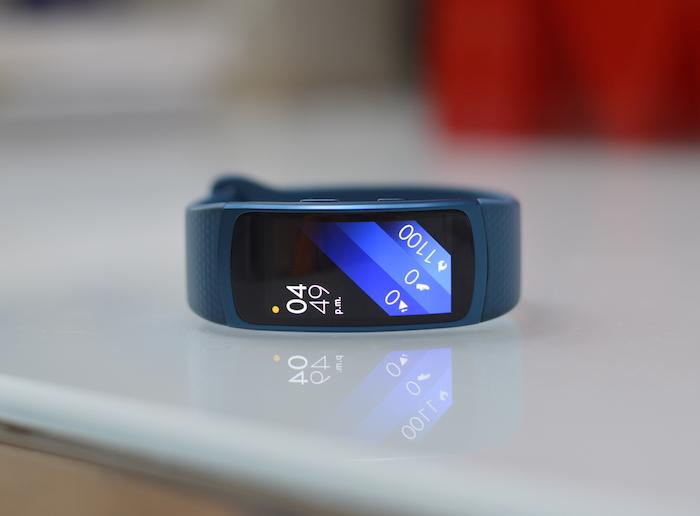 First off, as ArtTop10 is primarily about art, why are we reviewing a wearable? Simply because many of the things we use eveyday like our phones, tablets, laptops and smart watches are some of the most beautfully designed things we find these days. Months of thought has gone into how these things will look. So let's have a proper look at the design of this wearable. The first thing that struck me when I took it out of the box was the strap. It has a really nice soft feel to it. Despite being made of plastic it doesn't feel plasticky, it felt soft and almost leathery.
Second what I really liked about the look was the spaceship feel it had. For me it had a kind of retro space film vibe to it. Not quite Space Odyssey 2001, more Logan's Run. Personally I thought this was really cool and that retro space-feel made the whole thing contemporary and stylish. Combine that with the way that text and information spin around the long face of the object and you feel as if you're in a cool space film, and you're the star.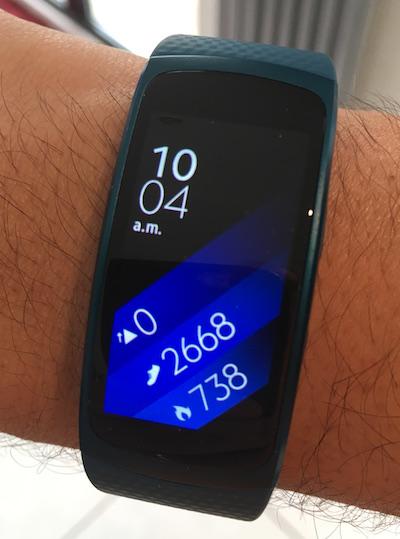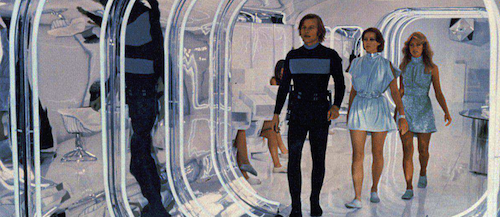 Logan's Run
The Gear Fit2 that Samsung lent me was in a nice kind of metallic blue colour. The material itself did not seem particularly extraordinary, it appeared to be relatively normal plastic but that didn't detract from the object significantly, nor did it make it extra special in anyway. Still, it glinted nicely in the light.
The screen itself it was fine. It didn't appear to have quite the resolution of an Apple Watch and was possibly a bit more reflective in the sunlight, but for the price this wasn't an issue and I did like the way the screen wrapped around your wrist and could be rotated up-and-down. Natural and stylish - space age and cool. Like you'd finally got hold of some technology you'd seen in a sci-fi film as a kid.
Some of my friends thought it looked quite big to wear, but as you can see below it's much the same size as an Apple Watch and once it was on you hardly noticed it. It was light and felt satisfying to have on the wrist but not cumbersome.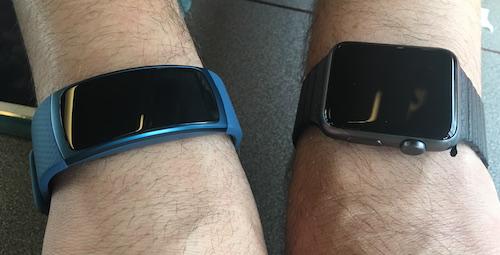 As for functionality there were quite a few things I really liked. I've had an Apple Watch since it came out so I'm used to wearables. First off what I liked about the Gear Fit2 was how it told you how many flights of steps you'd been up. I was testing it in Paris and it actually takes 23 flights of stairs to get to the top of Sacré-Coeur! Phew!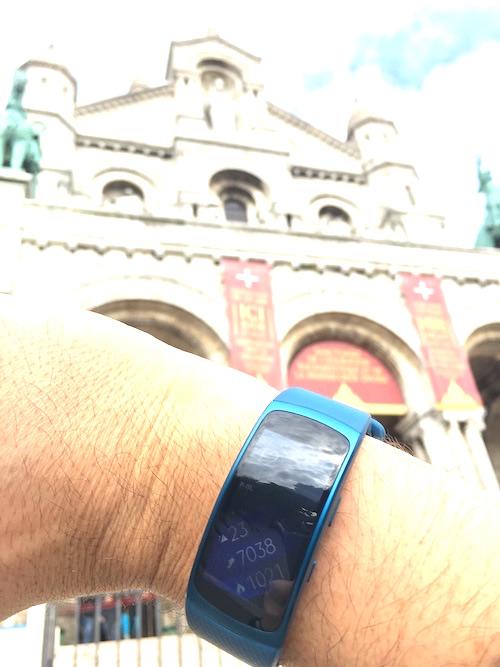 What I also really liked was that if you're walking along quite fast the Gear Fit2 would automatically kick into walking workout mode and track your details. It was neat, you didn't have to set up the exercise you wanted - it just started and encouraged you with how well you were walking. I also liked the simple clear way that when you started a work out you'd get a nice big 1,2,3 countdown on the screen. Just the numbers, big, plain and simple. Very stylish. The Apple Watch is a little more fussy with circles going around as well as numbers.
Of course it comes with all the other workout info you'd expect, calories, heartbeat, and distance as you can see from this epic 4 hour walk around the Louvre.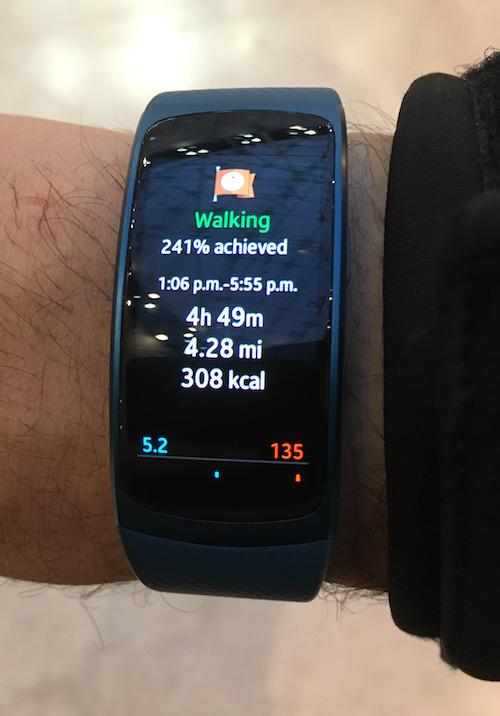 I don't have a Samsung phone so wasn't able to connect to that unfortunately. As far as I can see if I had I'd have been able to access all your emails and texts etc, which is exceptionally good for such a well priced piece of kit.
Overall I really enjoyed wearing it and enjoyed the information it gave me, plus it can also track your sleep, and of course has a really good battery life that is meant to go about 5 days between charges. Pounding around Paris going miles everyday it lasted for about three days before I needed to charge it. Of course I need to charge my Apple Watch every night. The charging stand is also cool, and it let's the watch turn into a little clock.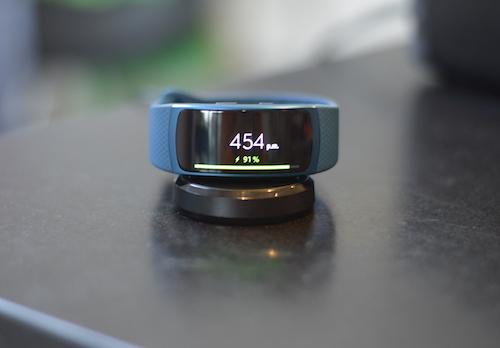 The person who really liked the Gear Fit2, though, was my wife. She's never really been into the Apple Watch but she liked the way the Gear Fit 2 looked and because it was more fitness focused. In fact she started wearing it from the minute it arrived and I had to prise it off her to do the review!
If you want something fitness focused that is well priced, simple and stylish then this is a brilliant choice.
Samsung Gear Fit 2 - http://www.samsung.com/global/galaxy/gear-fit2/
Review by Robert Dunt, Founder of ArtTop10.com www.robertdunt.com www.rdme.co.uk