A fascinating exhibition that lures you in gently, and then slowly seduces you, until you find you've entered another world, another reality, the unknown.
It all starts innocuously enough in the entrance foyer where there's a nice work by Gordon Cheung. In it a classical picture is being gently pulled apart by open source computing code - this is one of his 'glitch prints' made with images appropriated from museum archives. But this is just a hint of what is to come.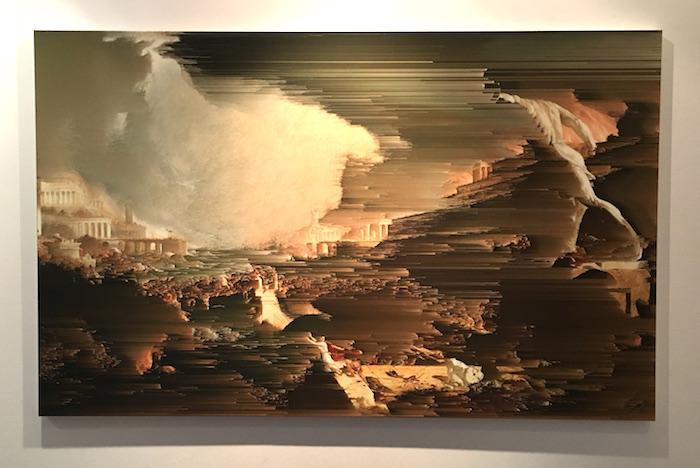 Gordon Cheung, The Course of Empire-Destruction (after Thomas Cole 1824), Giclee on canvas
Around the corner is a genuinely strange painting by Adam Dix of what appears to be someone with a gigantic head-dress, but their face is pixelated out. The sense is just of this person with a massive square for a head and it's peculiarly unnerving and inviting at the same time. It's like this bizarre apparition is your guide into the unknown.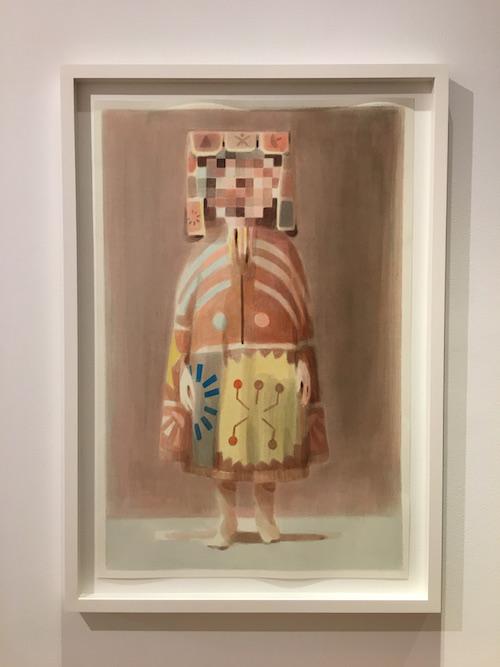 Adam Dix, Maiden, ink and oil on paper
From here things delve into the "real unknown, the unknown unknown," as DH Lawrence wrote.
A fine example of this is a painting by Graham Crowley which appears to be simply a boat floating in water with reflected houses. But the simplicity of this painting belies its strangeness. Graham Crowley spoke beautifully about the painting just before the private view opened.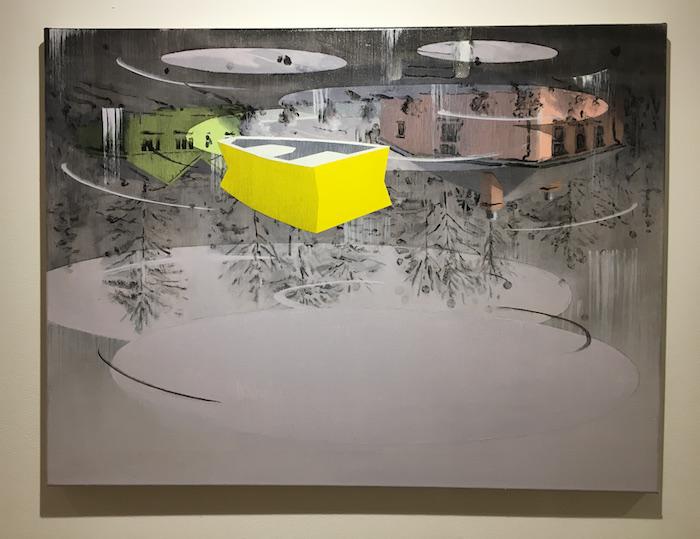 Graham Crowley, Grey Mooring 1, oil on canvas
He explained how the show had made him think that all painting is in fact fiction. Then when he was looking at a boat floating on a pond he had thought about how the boat itself is real, but the reflection of the boat is actually an illusion. But then this made him muse that when you paint the boat and the reflection both things become unreal. Painting allows you to bend reality. It was a sensitive and poetic discussion of his painting. I like the way in the painting that both the boat and it's reflection are painted in the strongest yellow, making the them realist things in the painting.
The strangeness continues unabated, and part of the skill of the exhibition is the focus with which Rosalind Davis has curated it. It moves consistently and firmly into stranger lands and it's impressive that she's managed to find such a variety of artists who fit into this brief.
The next peculiar work that caught my eye was a large piece consisting of many smaller pieces that all looked like illustrations from children's books. But they all had enigmatic text with them. The text actually comes from the novel As I Lay Dying by William Faulkner which describes a journey taken across America by a family carrying a dead mother in a coffin. As the book progresses the body begins to move in the coffin, the body is being rocked by the maggots in it. We're being taken deeper still into the strange.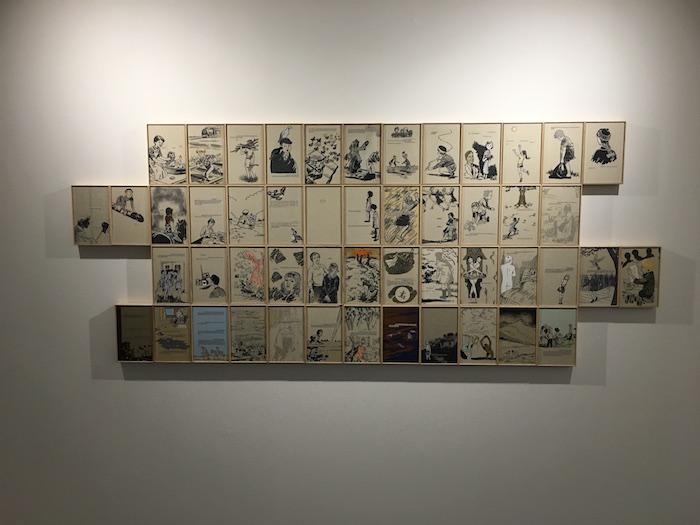 EJ Major, From a Distance, Archival giclee print on hahnemuhle paper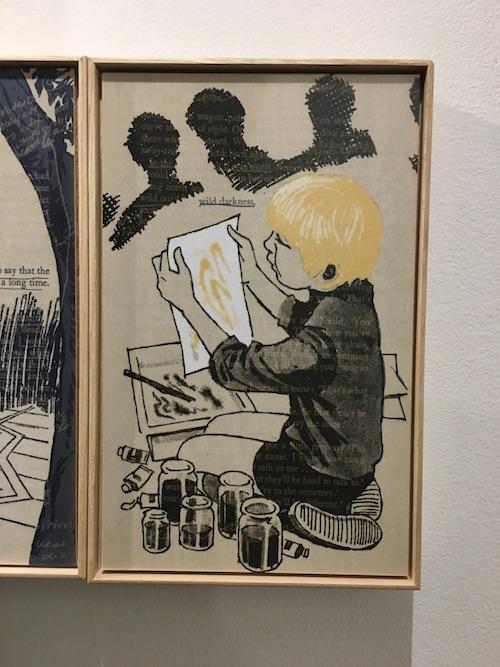 Detail of the above artwork
But what's nice about this show, and which is credit to its curation, is that the strangeness takes many forms. Some with a heavy literary bent like above, but some more simple and poetic like this little wood carving of Persephone who seems to emerge from the wood around her.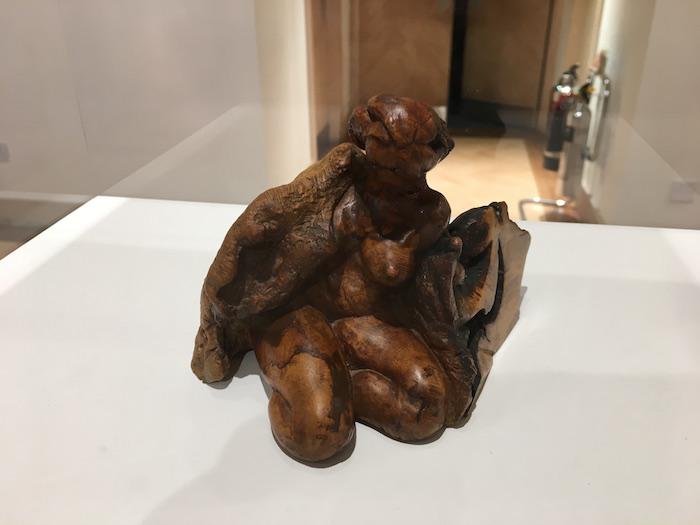 Peter Davis, Persephone, Oak
Then there are also more abstract moments of peculiarity like the works by Simon Leahy-Clark. These works are newspapers with the text cut out. The result is a modernist Mondrian-esque like landscape. The artist, which should come as no surprise, actually works taking newspaper cuttings.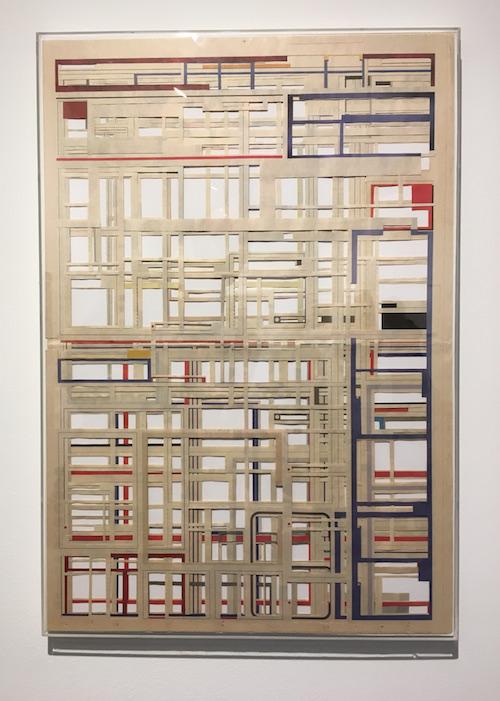 Simon Leahy-Clark, Untitled (H4508), Newspaper
In a similar vein are these Kandinsky like works by Richard Galpin. But on closer inspection these geometric forms are all parts of photographs. He's actually excised out sections of the photograph to create these peculiar works. Extraordinary unknown works produced by strange ritual like processes.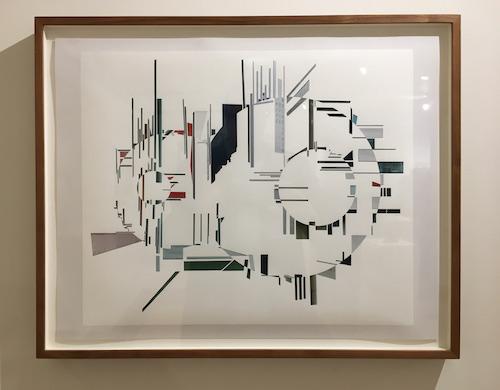 Richard Galpin, Observation III, Excised photograph
Then there are the works by Emma Talbot that add a darkness to this strange world you've entered. Night Studio is a good example where the text and images describe a furtive and dark world, where the artist lives outside of the normal world, and outside of the times when normal people are awake.
Emma Talbot, Night Studio, oil on canvas
A superb and cleverly curated show that takes you unknowingly, into the unknown unknown.
Review by Robert Dunt Founder of ArtTop10.com www.robertdunt.com www.rdme.co.uk
Telling Tales runs until 15 Feb 2017 at the Collyer Bristow Gallery, 4 Bedford Row, London, WC1R 4TF www.collyerbristow.com