A cracking show. The private view was absolutely packed with an eclectic combination of lawyers and artists, all rounded off by Nicholas Serota arriving to look closely at the artworks while dressed in his customary long grey raincoat and briefcase.
I've always thought this grey business uniform has an element of surreal Magritte style subterfuge. It's like he's dressed as the illusion of normality while in reality being this king-pin of the art world. And we all then accept this illusion for what it is - and it just so happens that this acceptance of illusion was the premise for the show which was entitled, Complicity: Artifice and Illusion.
The idea, put together brilliantly by curator Rosalind Davis, is that all artworks have fakery, forgery and imitation to them. They are valid tools of the artist, but we the audience accept this when we look at them. As Picasso said: "Art is a lie that makes you realise the truth."
My favourite piece exhibiting this artifice and illusion was one of Andrew Grassie's extraordinary egg tempera pieces. I remember the first time I saw one of these small paintings. From a distance it looked maybe like a photograph, but as I approached it that illusion fell away and you could see gorgeous dots of paint.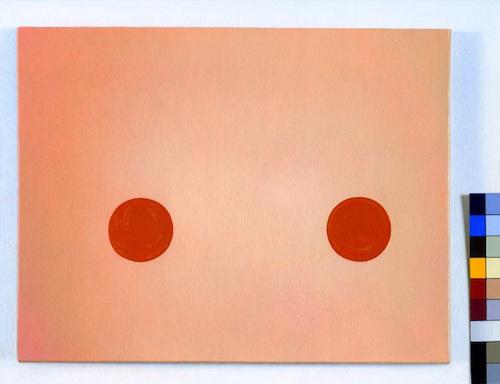 Andrew Grassie, After Jan Mertas, Tempera on Paper on Board, 15.9 x 20.5cm
His painting "After Jan Mertas" which is in this show had just the same beauty, in particular the subtle paint variations in the red circles and the sensitive detail to show the glint of light on the right of the painting he had painted.
Of course the painting is superbly clever as well. The image includes the colour checker chart used to ensue photographic representations get the colour right in reproduction. Not only does this allow Andrew to slip a little abstract formality into the picture, but it allows us to appreciate this is a painting - of a photograph of a painting - that would be used to make a reproduction. What masterful loops of artifice and illusion.
I also really liked Alistair Gordon's paintings that seemed like a brilliant contemporary take on 18th century trompe l'oeil paintings. Most of the paintings from a distance looked as if they had masking tape on them. But up close it became apparent that the masking tape was actually painted on. Countless people peered up close to the works to try and work out if it was actual masking tape or if it was paint.
Alistair Gordon, Rack Painting 2 (Tabula Rasa), Oil on Gaboon Ply, 50 x 40cm
What I particularly liked was that up close it looked like some of the painted strips of masking tape had been painted with the use of masking tape - another lovely loop.
There were also some great small 'drawings' of trees by Peter Liversidge. Of course these were not drawings as they were actually made with super tiny cut up pieces of black tape.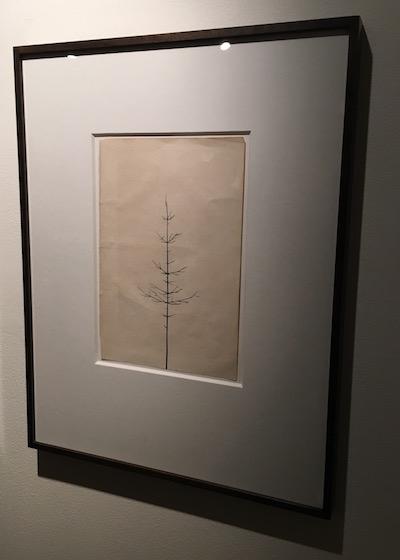 There were also some intriguing cardboard collages, maybe that's the way to describe them, by Clare Mitten. I liked them as I thought they had a sort of unhinged modernist feel.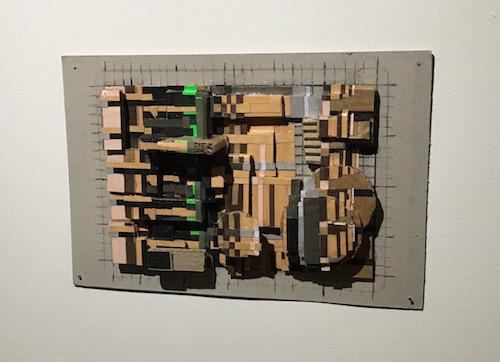 Clare Mitten, Babbage Tally II, Greyboard, cardboard, paper, pencil, glue, 25.5 x 38.1 x 6cm
It's a great show with loads of superb artists, I've only had time to discuss a few here, and a theme that's clearly demonstrated by the works on show. Don't miss it.
Complicity: Artifice and Illusion is at the Collyer Bristow Gallery, 4 Bedford Row, London, WC1R 4TF and runs until 7 June 2016. To visit the exhibition call reception at Collyer Bristow in advance +44 (0) 20 7242 7363 www.collyerbristow.com
Review by Robert Dunt, Founder of ArtTop10.com www.robertdunt.com