As soon as you enter you're surprised and relaxed by the sound of birds, it strikes you even more than the numerous Christmas trees that have been put up inside this gallery as part of a superb installation and group show.
But what's striking about the trees, even more so thinking back about them now, is that they weren't covered in decorations - they were just simply there. And grouped together with the bird song that simplicity somehow makes them all the more grand and impressive than the gigantic ones you see here and there festooned with gaudy decorations.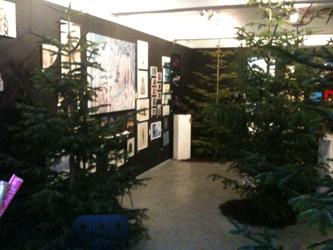 You've got to hand it to Sophie Colley, the installation artist, the show has got a real sense of atmosphere, of a forest and of Christmas, and it feels like a little haven away form the bustle of London - I could quite happliy have stayed there all day, chilling out looking at the paintings and sculpture.
The installation also includes work by about 20 artists, and this quiet and serene forest is a great place to find a genuinely unique and interesting Christmas present for someone. All the works are great, and starting at just £28, affordable. So here, in no particular order, are my favourites.
Nicola Preston has got some great bird paintings. They are simply and beautuflly painted on small pieces of wood which gives a tactile, earthy feeling that contrasts nicely with the crispness of the painting style. In the painting pictured, Robin, there also some nice decorative patterns that create a nice lyrical fluidity in the work.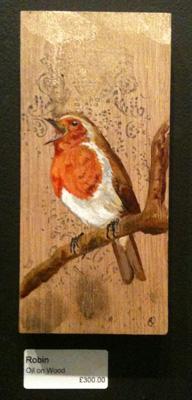 Robin, Oil on wood, £300 - Nicola Preston
If you looking for something a little more surreal then how about the small paintings by Abigail Box. These marry some nice contrasts of delicately painted soft colours, with crisp found images. The combination setting up this lucid dream like atmosphere. I really liked the way the paint as applied lightly so you could see through the layer to what was beneath.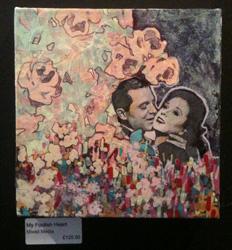 My Foolish Heart, mixed media, £125 - Abigail Box

If you're looking for great draughtsmanship then look no further than Lauren Mortimer. Her limited edition prints of her drawing also have a slightly surreal effect which is offset by the sure crispness of her graphite drawings - they are real exact but cool - and everybody needs at least one picture of a gun and a rabbit!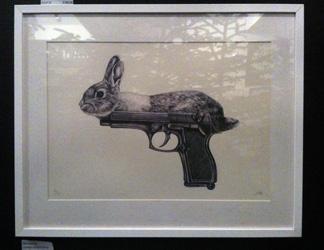 Gun Bunny ed of 75. £100 Lauren Mortimer.

Catherine Dwyer Harvey works were also interesting, I had to take a second look - are they drawings or photos? They seem to be photos that have been tinted and manipulated to produce updated versions of classic saucy photos.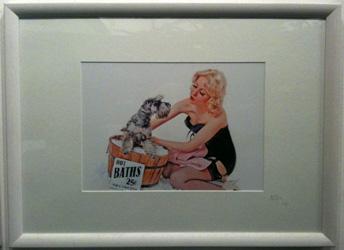 Bathing Beauties £250 ed of 10 photo. Catherine Dywer Harvey
Last but not least check out the paintings by Anika Manuel. These are small intriguing works where Anika has very beautifully painted figures on pieces of slate. The slate has a great colour and gives an extraordinary background to the pictures - it almost looks like the slate has been painted intself, and that in some case the figures are lying on this stone background.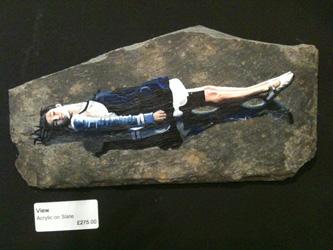 View £275. Anika Manuel. Acrylic on slate.


This is a great show with all sorts of wonderful Christmas present buying opportunites - and there's free gift wrapping as you can take the works away with you there and then - what more could you want!
Forest of Art is on at DegreeArt's Execution Room at 12a Vyner Street, London, E2 9DG until 23 December.